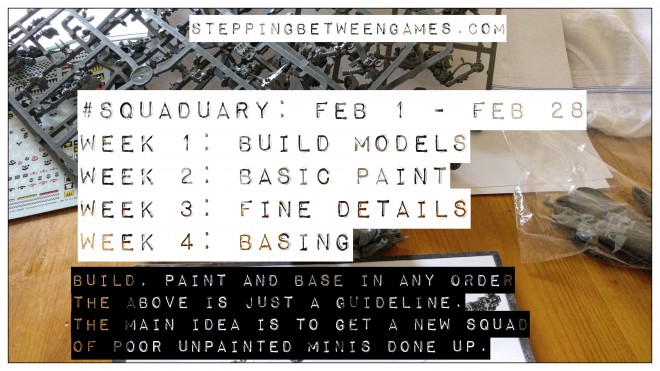 Time for a week one update. Since I am working with models that were previously built and primed, I got right to the painting. First up, I hit all the left shoulder pads with GW Mephiston Red and GW Calaban Green (where appropriate - for Calabanites!). Sergeants also got red crests. Two of the missile launcher troops were previously painted as I worked on a test scheme for these guys. Some of it stays, some is getting painted over to match my final color scheme.
Next I hit up the armor trim, back packs, and grenades with Vallejo Oily Steel. At this point, I'm just laying down base colors. I will be going back to touch things up before applying shades. I found my previously fastidious nature was bogging me down. Now I crack on until everything is colored, then make a pass to tidy things up. I seem to make better forward progress this way and get less burned out in the process. Its much like over editing initially when your are writing, I find (for any writers out there).
Next up it was time to get some base colors on the leather holsters and weapons. This is GW Doombull Brown for the weapons and Vallejo Gunmetal for the metal weapon portions (blades, gun bits, etc.). I use GW Sotek Green to base my plasma effects.
The missile launchers got some gunmetal as well and a splash og Vallejo Brass for some pop on the winged skull icons.
And that is where things stand so far. I'll get two more sessions in this week, maybe a third. I can only manage about 2 - 3 hours a session but it gets work done. pretty standard progress so far. I like how the Terrans are standing out from the Calibanites without anything too over the top going on. The still work as a coherent force when viewed together. Once Squaduary completes, I'll do a quick family post to show all for squads together (these plus the two prior tactical squads).
I hope your Squaduary progress is going well - It isn't too late to get started on a pledge if you don't have one yet...
Cheers and Happy Gaming!