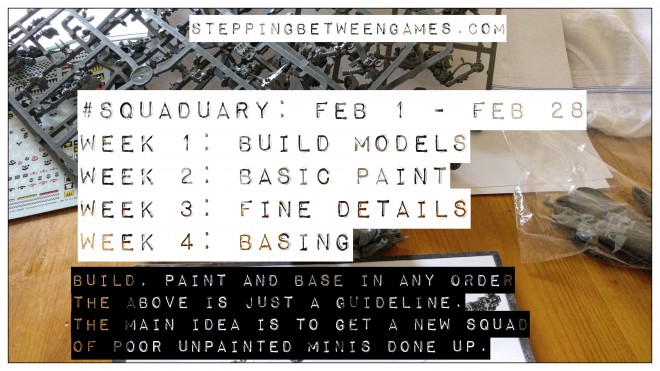 Some additional photos of my Squaduary 2019 projects. As I close out the first week of effort, I was able to clean up the black armor and get some shading done on the armor and equipment. I used a 60:40 mix of GW Nuln Oil Gloss and GW Lahmian Medium. This was applied over all the silver bits, the leather holsters, grenades, and shoulder pads.
I then worked on the Dark Angel icon highlights, using GW Wildrider Red. This was also applied to the crests on the squad sargents' helmets. Next I shaded the plasma coils on the tactical support squad with GW Drakenhof Nightshade. This was highlighted first with GW Templeguard Blue concentrating the color toward the center of the coils. A second highlight of Baharroth Blue was applied from the center out, avoiding the edges. Then a final highlight of GW White Scar was applied just to the center of the coils. These highlights were applied with a GW medium drybrush, using a dry brush technique.
While I don't personally prefer OLS effects, the dry brushing has left some "glow" around the gun casing and hands close to the coils. I'm letting that stand for now before deciding whether or not to clean it up. The color is a nice pop among an army of black and silver/grey and balances nicely wit the red, in my opinion. Tune in next week for more.
Cheers and Happy Gaming!